N6019L AA5 Grumman-American Traveler "Grummy"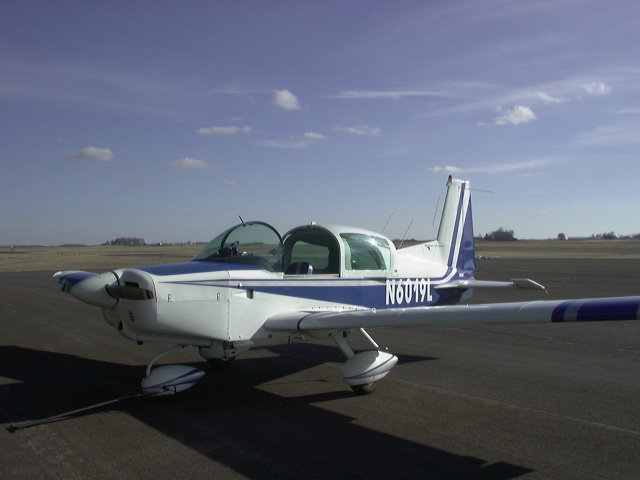 1972 Grumman-American AA5 Traveler
The new four-place aircraft, named the American Aviation AA-5 Traveler, was powered by a Lycoming O-320-E2G engine of 150 hp (110 kW). It would carry four people at 121 knots (224 km/h) cruise speed and was certified under US FAR Part 23.

Production of the Traveler had just started in 1971 when American Aviation was sold to Grumman and became the Grumman American division. Grumman continued production of the Traveler. 834 Travelers had been produced when production of this model ceased in 1975.
History of this Aircraft
The current owners acquired this aircraft in September 2004. Previously it had been in Iowa. One of the current owners is an A&P Mechanic, and has taken very good care of this aircraft. In the fall of 2008, a bad wind storm caused substantial damage to this aircraft when portions of the hanger were blown in. Thanks to insurance, this aircraft was completely restored. Replacment wings were purchased, and the aircraft received a complete airframe inspection and overhaul. As part of that repair, the rigging of the aircraft was inspected and adjusted, so this aircraft flys straight and has a light touch.
Flying this aircraft is like driving a sports car. The aircraft can be flown with the canopy open under a certain airspeed, which makes for an awesome experience. Both existing owners are instrument rated pilots, and can vouch for this aircraft's IFR capabilities.
Engine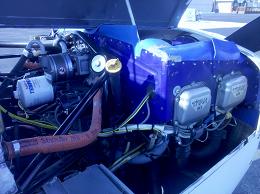 Lycoming O-320-E2G Stock 150HP
600 Hours since last major overhaul.
At the last major overhaul, the engine was rebuilt and upgraded with the following features

The cam and lifters were replaced with NEW
The cylinders were replaced with NEW ECI nickel (they don't rust)
The mags are less than 300 hours since new, and it has fine wire spark plugs
Skytech light weight starter and a zeftronics electronic voltage regulator
The engine was converted to 160 HP on a field approval rather than the common STC.
**The difference is in paperwork only - the engine mod is the same, but with the STC, it is still 150 HP because they lower the redline to 2650. Ours is a true 160 HP and the redline is still at 2700.

It had a top overhaul done about 100 hours ago for valve guide problems. Only 1 was really bad, but I elected to do them all since the labor in removing and installing 4 is not that much different than 1.
It has the auto fuel STC. (Although we have almost never put Auto Fuel in it because of contamination.)
Sensenich prop which has a tip mod.
**That mod, combined with the extra HP of the engine has allowed us to use a full 74" diameter prop pitched to 63". That is very aggressive for a Grumman, which is what gives us our good climb performance as well as decent cruise.
Airframe
The right wing fuel tank has recently been resealed at the inboard spar/rib joint. The fuel quantity transmitter was overhauled at that time.
The left wing fuel tank is scheduled to be resealed this fall
The main spar was replaced 2 years ago with a Grumman Tiger Spar on STC
Avionics
GNC-420 WAAS - this is the same as a 430, without the VOR/ILS. It will do a LNAV/VNAV approach
KMA-24 audio panel
KX-175 nav/com
Narco Nav 122 VOR/ILS
PM-1000 4 place intercom
EDM-700 engine monitor w/ fuel flow
HID landing light
Why this aircraft is available for sale.
The one owner (A&P) is looking to sell his portion of the aircraft as he needs the money to restore a Bonanza that he acquired.
The other owner would like to keep the aircraft, but is not flying enough to justify the expenses of 50% of an aircraft, and has three kids in college and can really use the money.
Several options are available for this aircraft:

Complete sale of this Aircraft. We are asking $42,900.00
Sale of shares: We will sell up to four shares at $10,700 each. If four offers are received, the second current owner will drop out so there are a total of four shares.
Complete sale to a new partnership. If several individuals wish to make an offer as a group, the existing owners will sell completely
Picture Gallery